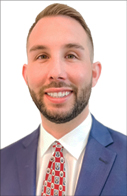 NICHOLAS A. MCANDREW
Associate
Nicholas A. McAndrew is an Investment Associate with Marcus & Millichap and Associate Member of the firm's National Multi Housing Group that specializes in apartment communities in South Florida with a focus in Miami-Dade.

Joining the firm in 2017, he is a graduate of Marcus & Millichap's renowned Sales Mentorship Program. Becoming an agent in 2018, he was the recipient of Marcus & Millichap's Pace Setter Award, and the Rising Star Award, in that year due to his sales achievements. He has personally sold or worked on roughly $350,000,000 worth of commercial real estate. His clients range from long-term single asset owners looking to retire or for estate planning purposes up to clients whose real estate portfolio is in excess of $1,000,000,000. Through this he has gained experience in seller financing, opportunity funds/zones, 1031 Exchanges, raw land, covered land plays, as well as many other facets of the commercial real estate transaction continuum.

He is a graduate of the University of Central Florida where he earned his Bachelor of Science in Business Administration, with a major in Finance. His background in real estate and finance coupled with his experience at Marcus & Millichap has equipped him with the knowledge and tools to best assist his clients, providing keen insight into current market trends, asset analysis, financing, sales, and purchases.

He has set 3 price records for his sales which include:
Record Setting Price Per Unit of $390,625 for a 16-unit non-waterfront commercial apartment building in Bay Harbor Island at time of sale.
Record Setting Price Per Unit in Opa-Locka for a C-Class Commercial Apartment building at time of sale.
Record Setting Price Per Square Foot in Hialeah for a C-Class Commercial Apartment building at time of sale.
As a market leader he has been quoted and his sales have been published in various media outlets including: South Florida Business Journal, TheRealDeal, CityBiz, and TradedMiami.

In his free time, he enjoys fishing, boating, and traveling with his wife and son.